Find Out Why Clients and Patients Trust Hitec Dental Ceramics
Dr. Hashimoto's Testimonial
14 Unit Layered eMax Case, Shade 1M1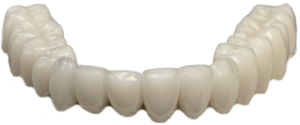 GREAT JOB on my patient's case (shown above).
-Dr. Uppal
Thank you for your services especially with the satisfaction of Bruxzir crowns. The form and fit have been very accurate with no adjustments. Our AEGD residents have been very satisfied with the services and we thank you for your support.
-Dr. V
UCSF School of Dentistry
Just wanted to let you know how pleased I have been with the quality strength and fit of all your Zirconia and Zirconia with layered porcelain crowns. I have been in practice for over 30 years and using porcelain fused to metal crowns quite routinely. That was, until now. Now I can maintain my margins supragingivally and not compromise esthetics, and further strength, quality, and fit are superb.
-Jorge J Montane, D.D.S
Montane Dental Care
I am a patient of Dr. Alderette's practice in Soquel. I want to thank you for doing a super great job with teeth! They look great! Thank you so much!
-Sandy O'Leary
Patient of Dr. Alderette's practice in Soquel
Thank you for being a great local lab that is a pleasure to work with! I'm liking how you guys do things. Thank you for helping our office and patients. Looking forward to a new year with you!
-Dr. J
Your anterior custom shading was superb. Right on the money!
– Dr. Rob Cisneros
I wish to thank you for the clinical work, dedication and efforts you have pored into making Leah's teeth. After going back and forth we finally got it. I used your opaque cement to further block out and internal discoloration and the outcome is great.
-Dr. Tancio
I'm a current 4th year student at UCSF. Many students use one of your competitors by default, but I have found that your lab offers superior service and products – I'm hoping to convince more of my classmates to use your lab!
-Bianca
I cannot be more pleased with Victor's bridge. I want to acknowledge it and thank you and your staff for such beautiful dental work.
-Dr. Rodriguez
Just wanted you to know that I was able to deliver #8,9 crown. Thank you so much for your help. You made me and the patient VERY HAPPY!
-Dr. R (UCSF)
Lately, your crowns have been fitting perfectly. Thank you for your excellent workmanship! We appreciate our partnership.
-Staff of Dr. Matt and Dr. Chris
My patient's case was doing great with no adjustments necessary. Praise whichever tech did the case. Went in great.
-Dr. Ma
Hi, the crown was great. I had asked for heavy contact and contact is now closed on both sides. I'll let you know if it works out with time. I have another case that I'm gonna be sending in soon.
-Dr Shirani
I just cemented my patient's #32 crown. The margins were very good.  Nice and flush. Thank you.
-Dr. Chung
So far I've gotten back some great crowns!! Keep it up!!
-Dr. Meehan
It turned out great (14 unit PFG bridge with Precious White Gold). The patient was happy. I will try to convince the new regional director that we will need a local lab to be efficient.
-Dr. Ma
The work created by Chuck's master ceramist rivaled the work we did at my lab in Grand Juction, Co. In fact, after we started the transition, they were producing restorations just as good as the work we did for our top clients from Matrix Laboratories.
-Michael Henderson